OP-6 Portable Amplifier (DISCONTINUED )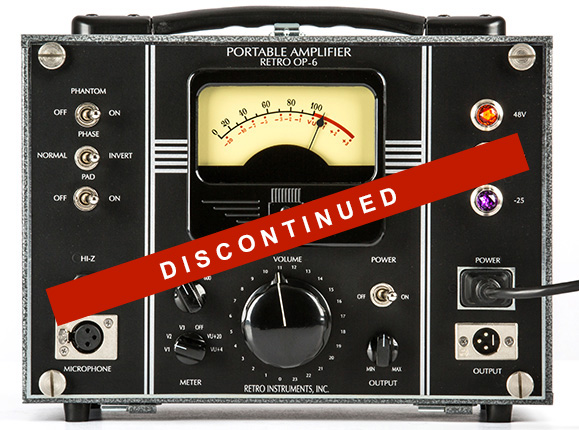 Description
The Retro OP-6, setting yet another standard to compare your BEST vintage pieces! Retro Instruments has taken what has been learned from the PAST, and created a unit to be used NOW!
Features
Stepped gain control
Switchable Mic Impedance - /37/150/600
Over 80db of gain
Phase Switching
48V phantom power
Instrument input
25db Pad
High Quality VU Meter
Output Attenuator Control
Improved Noise Performance
XLR Input/Output
Integral Tube Test Functions
Durable Hammer Tone Case Finish
Faceplate Holds true to original OP-6 design
115/230 Operation 50/60 Cycles
Reviews
BarryRudolph.com

October 2014

"So the Retro Instruments OP-6 is like have a brand new RCA OP-6 in all its sonic glory with the integrity of the original circuitry but with modern reliability and the professional audio conveniences/features required today."

- Barry Rudolph See more...
What people are saying about the Retro Instruments OP-6
"Retro Instruments consistently raises the bar when it comes to creating classic-referenced professional audio products that exceed the originals - and the Retro Instruments OP-6 is no exception. In placing the Retro Instruments OP-6 side by side against the elusive RCA OP-6 in a very good science listening test, I invariably chose Retro Instruments, time after time. And for good reason. It simply sounded better."

Glenn Rosenstein

Grammy-Winning Producer, Engineer & Mixer